We don't mean knocking on an actual door. If you're not already knee deep in it, it is definitely time to be putting some serious thought into your holiday promotions and one idea is to build an email-delivered brochure. With so much review, selection and even purchasing occurring over the internet, an email promotion is like a request for entrance into the potential customer's virtual home.
There are plenty of great WordPress pluggins that making creating and emailing newsletter-style promotional pieces fairly painless. Most of them are pretty easy to learn and offer tracking information and list handling, to boot.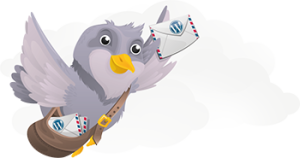 Our current favorite is MailPoet, formerly known as Wysija, a quaint little acronym for, "What you send is just awesome". You can add images, create banners or use some of their templates. You can pull articles from your blog or create new content to inform users.
I know, I know. People get an awful lot of email these days and you sure don't want to get lumped into the "annoying spam' category which is in essence, a slam of the door in your business face. We suggest keeping the emails infrequent and to increase opens, be sure to supply something of value to the reader in addition to the deal, sale, or offer you are pitching. Information is valuable. You are an expert in your line of work. Present helpful information your readers might not be able to get anywhere else. Top Ten lists, and time saving short cuts are favorites and encourage readers to click, open and look! Then sprinkle in your great holiday items, your superb services and amazing sales and make sure you clearly describe what's inside in your email's subject line without using too much salesman-esque jargon. Now you've got a mailer worth the click and just might get the door open!
If you don't already have an email list of registered users, avoid buying a list or worse yet, creating one yourself without opt-ins. You DON'T want to get blacklisted for spamming. One effective way to handle this is with a registration giveaway. We've used it ourselves and have found it to be very effective. Put a promotion on your homepage. Again, use the giveaway idea to increase results. You could offer a free white paper for each new registration, or if you have a suitable give-away item, do a weekly drawing from the list of new registrants. This way you build your own list. It might be smaller than a purchased one, but it is more targeted to just those that are interested in your business.
You can also push folks to your registration page from FaceBook, Twitter and other social mediums. There is so much you can do for free, there's no reason not to give it a go. And be sure to publish the winners in subsequent email publications as well as on your homepage and social pages. This adds validity, creates excitement, and encourages return visits.
If you are interested in adding newsletter capability to your online marketing efforts and all this seems a bit over your head or you don't have the resources to pull it off, give us a call. We'll come up with a solution that is perfect for your business and budget. We can also create wonderful graphics that add interest, animations to catch eyes, and enticing copy that will increase the chances you'll get your foot in the door.
Avoid the rush! We won't push or try to "sell" you. We are here to serve and Christmas is closer than you think. Visit our contact page or give us a call; 205.807.0540.