Now Online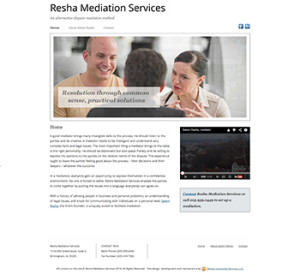 Salem (Sonny) Resha approached Deluxe Interactive Services about a year ago to discuss the possibilities of using the Internet for Resha Mediation Services. Sonny had participated in a few online efforts but consistency is key in this industry. Sonny really needed a web presence and we talked at length about ways to use it to his advantage.
Mediation is a great service in that folks can get to a resolution quickly, and with the safety of knowing they aren't just given a decision, they are part of it. It's a way to feel like there is some control of the outcome and it will be resolved quickly and with less expense. Sonny is optimally suited to fill the role of mediator and help both other lawyers and individuals leave feeling good about the outcome. The world of law could definitely use more of this but how do we get this across.
Sonny's quick problem solving skills, sincerity, wit, and friendly style comes across in conversation but that's hard to illustrate with just photos and text. I suggested we do an unscripted, homegrown, conversational style film of him just talking about his work. We added the video to the home page and not only does this add visual balance to the site, I feel this really highlights Sonny's sincere nature and helps validate his professional work style and ethic.
The site is a small one, and we will definitely be growing and fine tuning it as time moves on. So check it out. Individuals need not be afraid to seek out DIS for suggestions. We will never push or prod or try to over sell. We are here to help and if need be, hold your hand for as long as it takes to figure out how to get your message across in an effective way. So reach out if you think DIS might be of service to your business. Call 205.807.0540 or fill out our Contact Form and we'll be right with you!